So you're looking for the right all in one workout machine?
Finding the right all in one gym makes working out at home simple & easy.
Benefits Of Building A Home Gym
We are free to do what we want when we want and how we want.
When opted for gym centers we have to pay a lot of money for gym memberships, have to travel gym center every day and have to wait for our turn to use the equipment.  
Working out at home saves time to travel, eliminates the price of gym membership and gives complete privacy and also makes our own schedules or timetables to do workouts.
Steps To Making Your Home Gym A Reality
If you are thinking to build a home gym and to perform workouts for fitness, the following steps will be helpful and one can get a complete idea about the home gym.
#1 Create Space
To have a good home gym space is the primary requirement. 
If you have more space then you can place more gym equipment.
If you want to purchase particular machinery to workout then find space that fits for the equipment.  
Want to purchase the cardio or multifunctional gym equipment? Measure the height and width of the allocated space before placing the equipment.
Make a list of equipment you want to place and make sure your house must have that much of space to a place for equipment and space for doing workouts.
Choose the area that is free from distractions.
We may have a lot of disturbances in home-like television, telephone and kids playing.
These things will distract you from performing workouts in the scheduled sessions.
So make space that will be very peaceful to workout.
The equipment may harm the children, so restrict the access to the gym area.
Make sure that the place must have proper ventilation and insulation.
After checking for all the possibilities, give finishing touches like placing mirrors, music systems, floor mats, televisions, and DVD players to add the perfect look and feel for the home gym.
You have chosen a place for a home gym and now it's time to purchase and place furnish the room with the desired equipment.
Make a budget plan according to your financial progress.
#2 Make A Budget
Finding the right all in one option for you is not expensive.
No matter what your budget is you can build a gym that suits your needs.
Some people waste money on unnecessary equipment.
The best way to efficiently utilizing money on equipment is to prioritize.
If you are finances are limited it is better to eliminate high-end functional equipment like cardio and multifunctional equipment.
One can build the home gym gradually and place the equipment one by one and with the improvement in technology, quality equipment will be available at reasonable costs.
In the initial phase buy only the necessary things and make add collections to your home gym as you go along.  
#3 Pick What You Need
If you choose to set up the home gym, you will need the following equipment, which serves the basic purposes:  
A larger padded mat about 6X3 feet.

An exercise bench that adjusts to both flat and inclined positions.

A Bench press station that fits over the Exercise Bench.

A Barbell  and Plate Set

Set of Dumbbells of different weights.

Resistance Bands comes with detachable ankle strap, loop handles, and door hanger attachments.

Ankle Weights with slots for adding weights.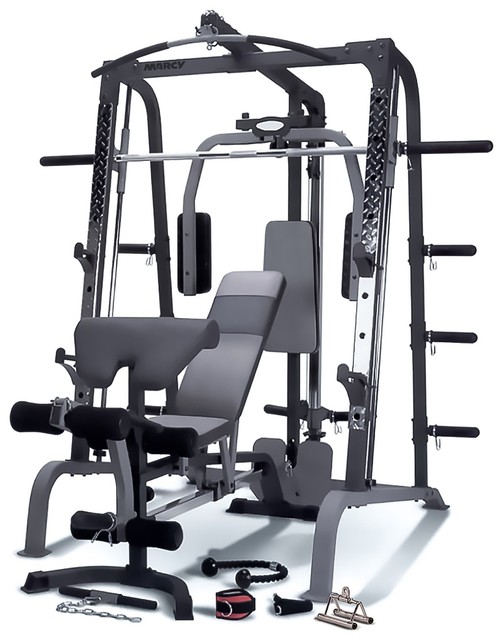 #4 Buy The Equipment
After preparing a budget and making a list of equipment it is time to buy the equipment.
Before buying anything it is important to research the equipment providers.
We have different brands to choose from.
Follow a systematic approach for making selection on what to buy, how to buy and where to buy.
Do research over the web, find the reviews of products and select genuine equipment.
If the equipment serves the purpose decide where to buy the equipment and then decide whether to purchase by online or from local gym equipment stores.  
Here we have some options for where to buy:
Online Purchase
e-commerce sites are the best to purchase goods easy and quick. By sitting before the computer, we can select the product and can get door delivery. One can save money by purchasing on the internet.
Online shopping sites provide discounts to the customers and we can purchase the equipment in our allocated budget. Not every site provides discounts or lower heads. Before buying make rate and quality comparisons among the websites.
The only disadvantage of online shopping is we can't try the product before purchasing. Exercise machines are designed for certain body types. The feel of the equipment is very important. A machine that feels steady and smooth to one person and uncomfortable for other persons. If the product fits our needs then it will be ok, if not replacing or returning the product is somewhat difficult in online shopping.
Retail Stores
When we want to try and check the product before buying then local retail stores are the best place. In retail stores, there is no chance of defect products.
When purchasing from online we have to set up the product by following the guidelines and it will take hours to do. But in retail stores, the employees of the store set up the equipment for us without any issues.
If we have any problems or questions in future local stores provide best and fast help when compared to online stores. The only problem with retail stores is they include additional charges or taxes along in the product cost.
Used Equipment
 If the person running on a low budget and want to get equipment on the cheap go for second-hand equipment.
One can get second-hand equipment in a variety of places like in newspaper ads for garage sales and online resale sites like OLX and Quikr. Most of the times buying used equipment is not at all considered.
Most of the equipment may have some underlying problems like mechanical /electrical issues and it is difficult to know what problems are associated with the product.
Buyers must beware when purchasing second-hand products. We will be very lucky if we got perfect functioning equipment.
Having a home gym can be great for convenience, but it does not suit everyone.
Some people get motivated by seeing other people at the gym center and they want to learn from expert trainer classes, whereas some people like to get trained alone.
Most women prefer working out at home because they can take care of their kids and family all the time.
A home gym is suited for people who can manage their time and household chores very well when doing their workouts at home.